In the early Fall of 2008, my partner in all things film, my go-to-shoot-this, main man, Chris Harring was asked to record a J Roddy Walson and The Business show at The Ottobar in Baltimore. He obliged and decided that we should take the footage and roll it into a quirky music video for one of the group's songs as a promotional piece for our work.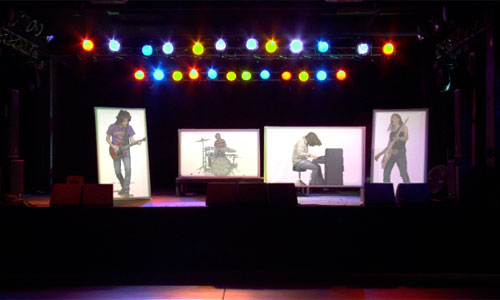 The plan was to record the live show, edit a cut of one song and project it onto canvas screens set up on a stage. Chris asked for nothing from me but advice as to how best to pull that off. I suggested that instead of using the existing footage from the show that we invite the band to a studio and shoot them on green screen. Then instead of video recording a light projection (which would be difficult to do correctly) we do a post-production composite of the screens on a stage with the green screen footage.
Fixing it in post
Chris scheduled the shoot and booked the studio, I borrowed an HD camera and we shot the band, stage and screen. We also shot the screens in public places around Baltimore, supporting the idea that the band is Baltimore-based. The band was told that the video would be available in a few weeks.
A couple weeks into my post production, watching playbacks of my composite I found the concept didn't support the song. The driving force of the music was completely juxtaposed by the stillness of the image of canvas screens sitting on the stage. This video was going to be painfully boring to watch for four minutes and ten seconds. I stopped working on the video for six months.
Stop! Animate!
This past July I borrowed my friend Ben's Sony Handycam to work on a small personal project. While I had it in my possession I tried out some techniques that I was curious about. Namely how to do a faux stop animation of paper elements on a desk. In my tests I reached for some placeholder footage from the J Roddy folder.
I decided that this could actually be an interesting method of presenting the band while they performed their song. I presented the idea to Chris who basically told me that the band had apparently completely forgotten about our promise and to just do whatever I wanted.
Below is the completed project. I'm happy with it for the most part and wish that I could look at it objectively. Enjoy.